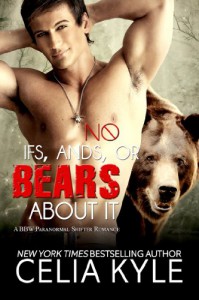 My Thoughts - 5 out of 5 Unicorns - I loved it!!!
***Received ebook from Fido Publishing for an honest review
The cover is yummy :)  Wow, he is cute…though I do not think bear shifter when I see this eye candy.
Totally an adult book, yep there are steamy sex scenes, so if this is not your thing might want to find another book.
Okay Celia had me from the start with this book.  Lots of action, drama, and men who think they control everything.  I love watching bonehead men think they have all the control, and watch them as they slower realize that it was all just in their head.  
I love Mia because she stands up for herself and others and won't back down.  To me a strong female lead makes the book that much better.  I can totally relate to some of Mia's sense of self issues with her body that is not a size 5 or smaller.  I loved watching her confidence with Ty grow.  She is feisty, and I love that she doesn't just roll over and do whatever she is told.
Ty is sexy and full of himself, and I loved watching his character grow and all his internal dialogue's with himself were funny especially when he wanted to hurt someone.
I totally want more of this series, and hope I don't have to wait long :)  I see greatness here :)
If you are a shifter fanatic like me, you do not want to miss out on this book.  I have several of Celia's books that I've bought and haven't read yet….time to fix that soon and get them all on my reader and read them.  Must read for paranormal romance and shifter fans!!